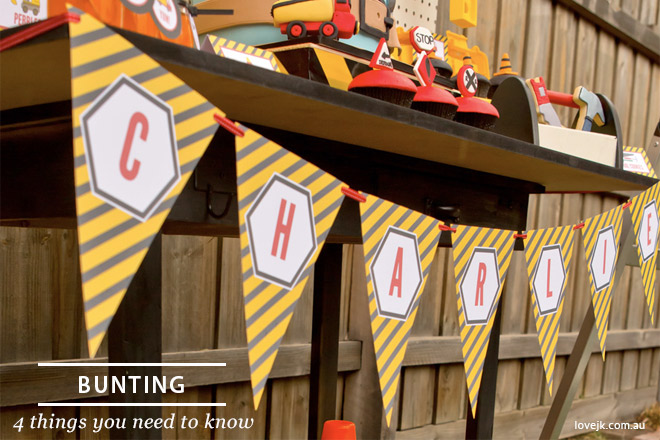 Bunting flags are a fantastic way to add a touch of festivity to any space or special occasion. Whether it be a first birthday party, a wedding reception or your bubba's new nursery, these fun and festive flags can make empty spaces and blank walls come alive.
Here's why you should love bunting just as much as we do
Easy & Inexpensive
Bunting flags are the ultimate accessory when it comes to simple and inexpensive styling. Taking only minutes to thread, your bunting flags can be assembled in no time, making them ideal for last minute events and pop-up parties. Did you forget a friend's birthday and leave it to the last minute? Most of our nursery bunting flags can be re-purposed for birthdays!
Styling
Once you've chosen a design or style, and your celebration flags are in hand, you can get really creative with how you style them. Do you want your bunting to be a focal point? Or will you add paper pop poms for an extra pop of colour on your party backdrop? With so many lovely designs and colours to choose from, bunting is a style saviour for both decor and accessories.
Assembly
Threading bunting is actually very simple. With pre-punched holes and ribbon supplied, it's an easy peasy process for hands (big and small) to put together. For minimum fuss, lay out all of the bunting flags on the floor or across a table in the correct sequence. Thread the ribbon through each hole, ensuring it runs behind the facing side of the flags. Finally, always remember to leave ample ribbon at either end to allow for easy hanging.

Hanging
Where and how you hang your bunting flags is up to you. Think about where will make the most impact visually. You can attach your ribbon to anything; from curtain rails to your roof! If it's an addition to your current decor, try hanging above the cot in your baby's nursery, or stick over the window in your little ones bedroom.
And if you don't have something within easy reach, use removable hooks that won't damage the walls to hang across the full width of the room. The best thing about bunting is that it can be re-used and moved to suit any celebration!