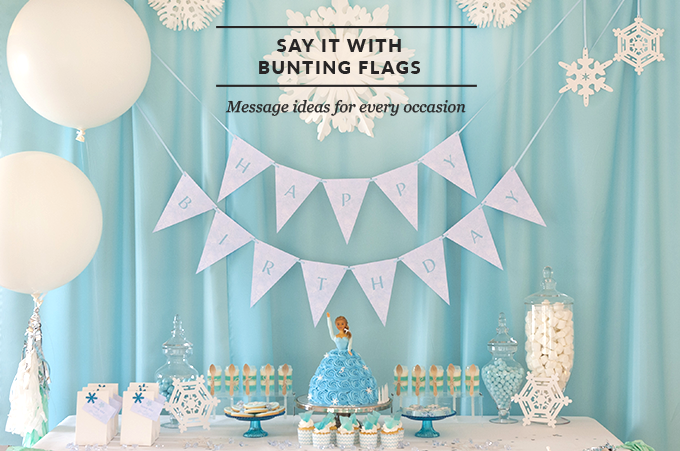 Nothing means a celebration like bunting flags. You can basically turn an otherwise ordinary room into a party just by hanging up a bunting banner.
And there's just so many ways to decorate with bunting flags. You could hang a small bunting banner over your cake table for a sweet display. Or go all out by hanging bunting from every corner of the room.
Because you can just add as many flags together as you need, you can write just about any message that you want on a bunting banner.
And you can hang it however you want. Have your message all together on one long strand of ribbon across the room. Or hang a different word on each row to spell out a festive message.
Birthday Banners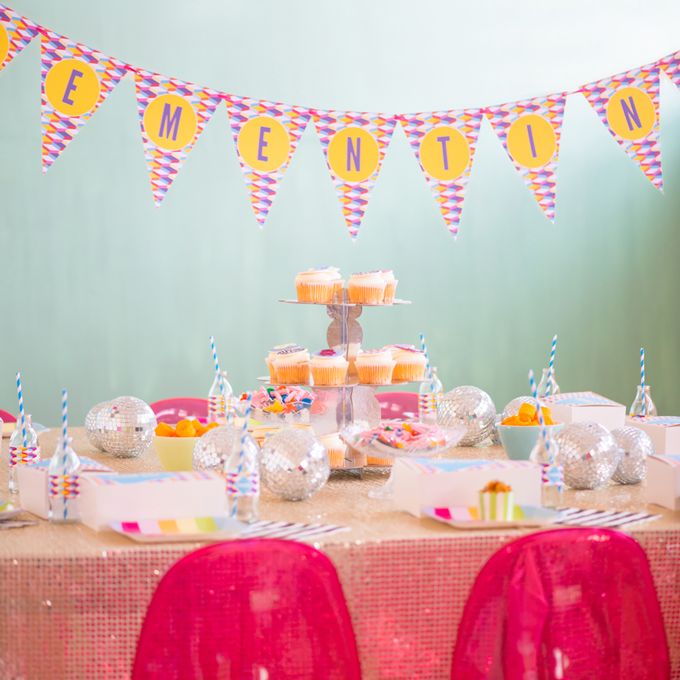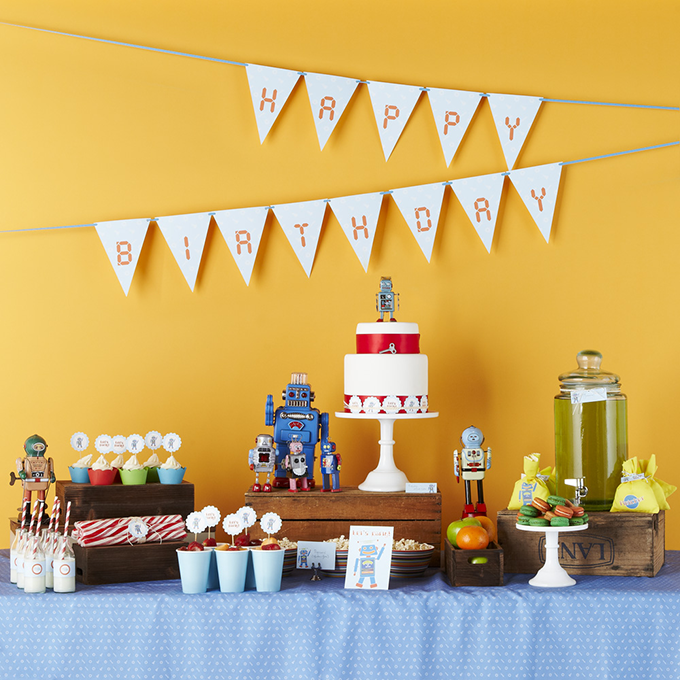 The classic 'Happy Birthday' banner never goes out of style. For something a bit more special, get extra flags to spell out the name of the birthday boy or girl.
Is it a significant birthday? It's always nice to acknowledge the celebration with bunting that includes the age of the birthday VIP.
You can also link your birthday banner in with the party theme for an easy decoration option. Hang rainbow-coloured bunting flags that spell out 'Ice Cream Parlour Party' over a do-it-yourself sundae bar. Or use yellow and black striped bunting flags to spell out 'Construction Zone' at the make-you-own taco stand.
Birthday Banner Message Ideas
Jennifer's Birthday
Happy 1st Birthday Charlotte
Jennifer's 1st Birthday
Charlotte is One
Siena's Princess Party
Arrrgh It's Tom's Pirate Party
Happy Bday Alex
Happy 21st Birthday Lucy
Happy 30th Frankie
30 is Sweet
Happy 70th Birthday Mum
Party!
Drinks!
Wedding Bunting
Bunting flags can be used in so many ways to decorate your wedding. And with so many styles to choose from - which work for vintage, modern, elegant and whimsical themes – it's super easy to incorporate a bunting message into your day.
How about simple 'Mr & Mrs' bunting flags hung on the back of the happy couple's chairs at the reception? And a larger 'Just Married' wedding banner hung behind the couple's table would make a fitting backdrop.
Wedding bunting also makes a fun accessory for your wedding photos. Get your photographer to take shots of you both holding the ends of 'Thank You' bunting flags, which you can then send out to your guests with their Thank You cards.
For the 'social' couple, get wedding flags that spell out the hashtag guests should use when they share photos of your day on social media. It's a fun way to make sure you find all those photos your official photographer might have missed.
Planning on popping the question? Bunting banners are a popular way to propose. We love the idea of hanging a 'Will You Marry Me?' banner over a beautiful picnic laid out in the park. Send her on a mini treasure hunt with the last clue leading her around the corner to where you'll be waiting on bended knee. So cute!
Wedding Bunting Message Ideas
Mr & Mrs
Mr & Mrs Smith
#Mr&MrsSmith
Charlotte & Simon Smith
Congratulations Mr & Mrs Smith
Just Married
Love is Sweet
Love
Will You Marry Me ?
Engagement & Hens Bunting Message Ideas
Congratulations!
We're Engaged
Dave & Chloe's Engagement
Amy & Tim Are Getting Married
Sophies Getting Married
Bride to Be
Pams Hens Night
He put a ring on it
Nursery Bunting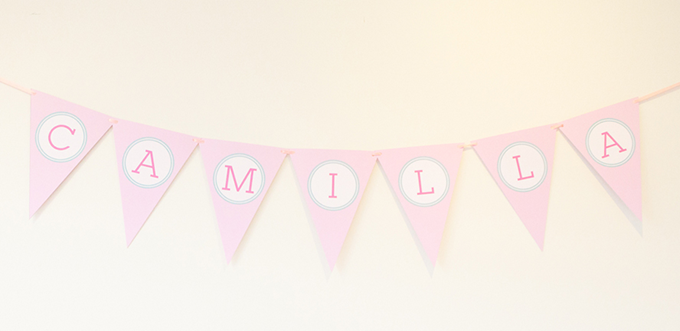 Using bunting in the nursery is an easy way to add colour to your bubba's room. And because it can be moved easily, you can change it out if you decide to update the room.
Choose a simple bunting banner that spells out the name of your little darling. Or capture a favourite line from a nursery rhyme such as 'Twinkle, Twinkle, Little Star'. You could even use bunting to spell out a special wish or blessing for your babe that they can hold onto as they grow up.
Nursery Bunting Message Ideas
Alex
Sleep Little Alex Sleep
Jennifers Room
Eve Harper Jones
Little Man
Dream Big Little One
Twinkle Twinkle Little Star
Love
Baby Alex
Sophie's Toy Room
Special Occasion Bunting
You can use bunting flags to celebrate just about any occasion. Really, it's such a versatile icon of festivity.
Hang 'Merry Christmas' bunting over your mantle with your Christmas stockings for some festive cheer. Or keep a 'Congratulations' banner in the cupboard for those times you want to celebrate anything good (we like the idea of hanging it out every Friday after the working week is done).
Bunting banners are also a lovely way to share a just-because message. Tell Dad how much you love him, or let Mum know just how much you appreciate her for being awesome (and never letting you leave her house without food).
Special Occassion Bunting Message Ideas
Happy Easter
Love You Mum
Best Mum Ever
Dad You're a Star
Dave & Florence Celebrating 20 Years!
Happy Anniversary
Congratulations
Welcome Home Lucy!
Good Luck Lucy
Nadia's Tea Party
Germaine's Kitchen Tea
Baby Shower, Sip and See Bunting Message Ideas
Ana's Baby Shower
Oh Baby!
Welcome Baby
Baby Henderson
Oh Boy Oh Boy
Little One
Ten Fingers Ten Toes
Bonjour Baby
Baby Nguyen
Christening and Baptism Bunting Message Ideas
God Bless Patrick
Grace's Christening Day
Luca & Milla's Christening
Happy 1st Birthday & Christening Holli
Christmas Bunting Message Ideas
Merry Christmas
Naughty or Nice
Ho! Ho! Ho!
Joy To The World
Be Merry
Santas Cookies
Reindeer Food
Noel
Joyeux Noel