Does your little one have an OBSESSION with trains? Yes? Then you're going to love this celebration. Simone from DIY Lolly Buffet shares with us a classic train party, packed full of inspiration and steal-worthy DIY party ideas…All Aboard! It's full steam ahead!!
Upon arrival at the train party, the little guests, or should we say passengers, were directed towards the 'check in' counter. Simone had constructed the counter from a cardboard box, corrugated card, wooden dowel and a splash of paint. Simple and so easy to do!
This is a good activity to do a few days before the party. Each passenger was given a conductor's hat and bandanna to ensure they looked the part.
A terrific train party wouldn't be complete without a lolly buffet. Simone draped a classic sweet shop canopy in red and white stripes behind the table and filled the lolly buffet with red, white and blue treats for the guests to tuck into.
The train cake from Cakes on Clarendon took centre stage and food tent cards from Love JK completed the look.
Simone created a 'food train centerpiece' in the party room. By sticking black masking tape onto the tablecloth she created her very own train tracks! With the addition of blue and red boxes, the train carriages came to life.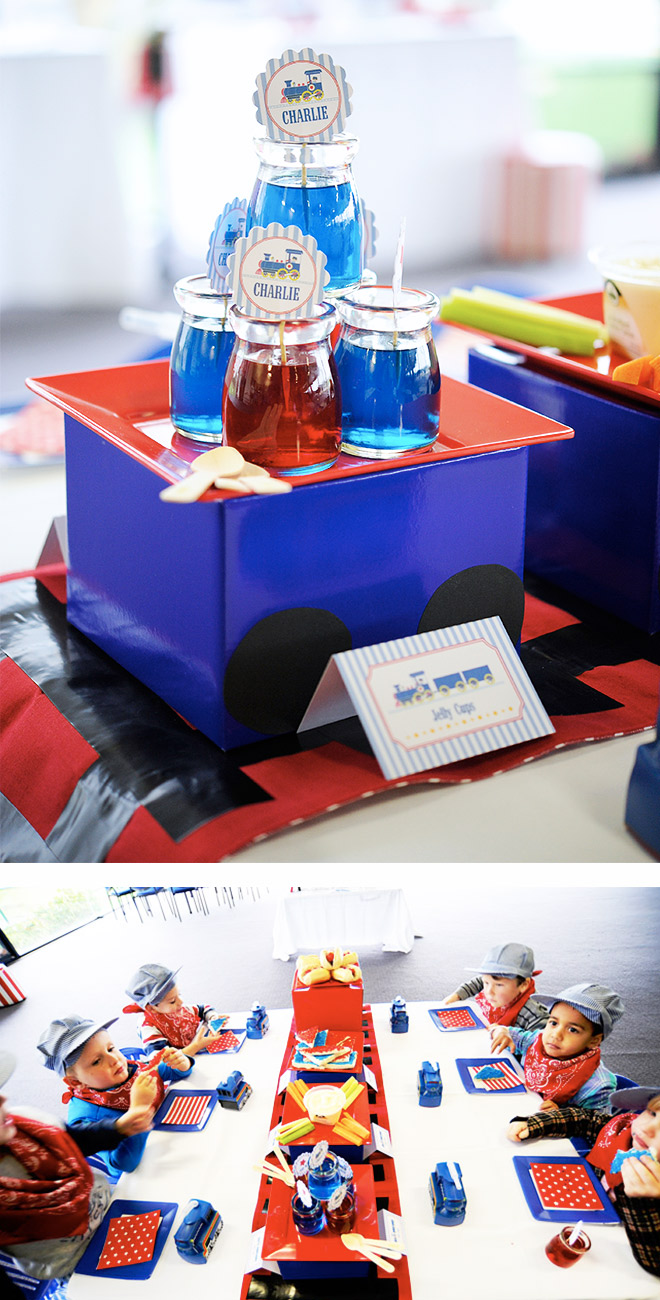 Cut out circles of black card were used as wheels and with just a few puffs of smoke (cotton wool), the chugging food train was complete! The rest of the table was kept simple, with white linen and blue chairs, allowing the 'food train' be the focal point.
The hungry train conductors enjoyed a feast of blue and red jelly pots, mini hot dogs, vegie sticks and red and blue fairy bread.
A big hit with the party guests was the train photo booth. Made from MDF, we simply painted a train on the front and cut out a circle for the kids to pop their heads through. A few handmade train signs made the easiest props and gave the mini controllers the tools they need to act the part. There was also a  'Colouring Station', letting kids colour their train with their favourite colours and take it home with them.
Each guest at our train party was also given a train cookie with matching thank you tag to take home.
Partyware featuring our train themed stationery including personalised party invitations, tent cards & thank you gift tags
VENDORS
Personalised Stationery & Printables by Love JK 
Party Paperware by Paper Eskimo
Party Styling and Hire Items by DIY Lolly Buffet
Cakes & Cookies by Cakes on Clarendon
Whistles, Conductor Hats, Train Props & Bandanas from Bubbles and Rainbows